A 'Ho zon' is a Plymouth Horizon that is missing the 'ri' part of its rear silvery label, or that's what my hubby tells me how it was on his Plymouthian compact vehicle of the 1980s.
Now that we're in the 2010's, on
our
ho
r

i
zon is:
Checking out the $7m upgrade to the
Portland Public Library
.
Taking charge
of our crayon scraps.
Scouting locations for Jimmy's Birthday Party #3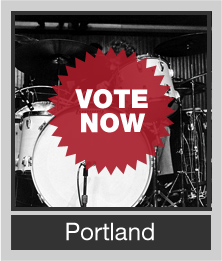 Inviting folks to the privilege of participating in a
write-in
campaign for my ho zon hubby's band
The Mallett Brothers
in the
Best New Act
category of the Portland Phoenix's Best Music Poll (aka many
pleeze
s and sweaty heartfelt
thankyuhverymuch
es for clicking a write-in vote on over. <=)
[also available for votes in the
Best Rock Act
and
Best Heavy Music Act
categories are: Sun Gods In Exile, Ocean, and Twisted Roots.]
Curious George, ALIVE, and coming to a town near me.
And those are our ho zontal prospects on this Sunday. And I can't jussay it enough, Sunday evenings are so much more divine when you don't have to work Monday!!! Jussayin'!